Our Advanced Chiller Efficiency Testing Program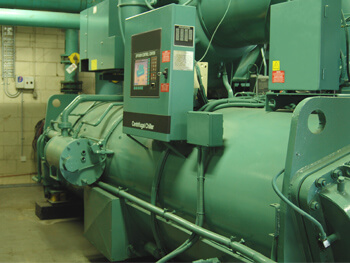 DeBra-Kuempel's Chiller EDGE™ is our computerized advanced chiller efficiency-testing program designed to help improve your chiller's performance. We'll evaluate your chiller's operating efficiency and identify any repair, maintenance, or other services needed.
This comprehensive package of expert high-quality chiller service helps keep your facility comfortable and productive, lower energy and operating costs, and extend your equipment's longevity.
Once we've made any necessary system improvements, we then re-test to help ensure you're getting maximum energy benefits.
Full Range of Chiller Expertise
Our chiller maintenance services include:
Absorption, centrifugal, reciprocating, and screw machines
Tube cleaning and repair
Industrial chiller system and equipment retrofits (compressors, control panels, variable speed drives)
Non-destructive efficiency testing, including:

Eddy current tube analysis
Infrared scanning
Refrigerant analysis
Spectrographic oil analysis
Vibration analysis

Customized preventive maintenance programs
Refrigerant conversion
Retubing
Tube cleaning
Temporary commercial chiller installation