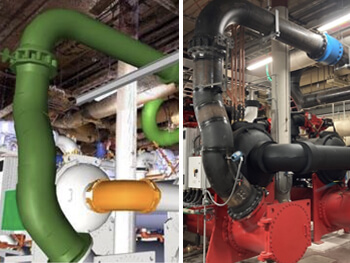 Our virtual design services can help improve time and cost efficiencies on your projects. Collaborating with all project team members, we build the integrated graphics and data system needed to assess your facility through 3-D visualization.
With the expertise to self-perform your virtual design services across all platforms, our in-house designers can accommodate projects of any size or complexity.
Construction Layout Services
We can perform your construction layouts quickly and precisely—from up to 1,000 feet away with accuracy to 1/16 of an inch—using CAD drawings generated during the Building Information Modeling (BIM) phase.
This helps to resolve collision and location issues before they become costly problems. It also eliminates the need to clear the floor to mark control locations or excavation lines. Upon project closeout, facility management can use all the equipment data within the BIM design.
Combining Laser Accuracy with BIM and CAD Technologies
Our specialized technicians use the laser accuracy of Trimble technology to shoot measurements for markings without moving a thing.
In addition to creating markings from CAD files, our virtual design team collects precise measurements and exports them as drawing files. Our services include:
As-built checks
Checking or typing into property boundaries
Layout of:

concrete forms and anchor
control lines
control lines on concrete paid for subcontractor
excavation lines
hangers, sleeves, and underground pipe

Light topographical measurements
Benefits of Virtual Design
Contributes to reducing project costs
Helps reduce conflicts in the field
Helps increase site safety
Optimizes prefabrication designs for manufacturability
Provides efficiencies when manufacturing large runs for just-in-time delivery
Contact us to learn how our virtual design services can help improve your next project.