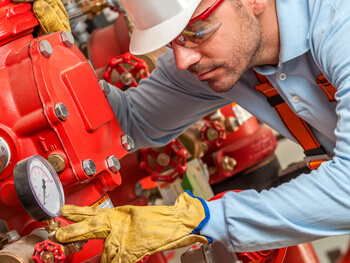 DeBra-Kuempel is certified in air and hydronic systems by the National Environmental Balancing Bureau (NEBB) and the Testing, Adjusting, and Balancing Bureau (TABB).
Our testing, adjusting, and balancing insights can equip you to achieve operational efficiencies, control costs, and improve occupant comfort.
Complete HVAC-certified Testing, Adjusting, and Balancing
Air and hydronic systems
Commissioning support
Constant or variable volume HVAC systems
Energy audit support
Mechanical repair services
Regulatory compliance systems
Certification Compliance Testing
Laboratory fume hood and bio-safety cabinet related equipment /air volume certification testing
Incubators
Lab air flow pressurization
HVAC, Fire, Life Safety Systems Inspection and Testing
Fire dampers
Smoke control systems
Smoke removal systems
Stair pressurization systems
Interior Environmental Systems
As part of our precise testing, adjusting, and balancing of your interior environmental systems, we conduct mechanical systems site surveys and engineering studies.
These reports help to develop system capacity for your current building use, to give balancers accurate system performance.
Contact us to learn more about our testing, adjusting, and balancing services.