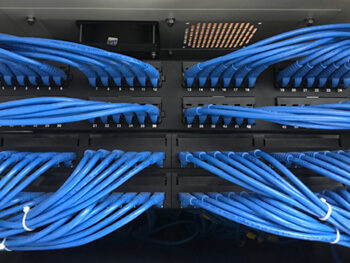 DeBra-Kuempel's team of experienced electrical technicians can solve a comprehensive range of your high and low voltage challenges.
High Voltage Services
We offer comprehensive high-voltage electrical systems solutions to commercial, industrial, and utility clients whether public, private, or government agencies. Our services include:
Switching Stations & Substations
Installation & replacement of breakers, capacitor banks, grounding, racks and structures
Switch construction and adjustment
Insulator washing, hi-pot testing, meggering, point to point checks
Transmission & Distribution
Inspection, installation, and replacement of wood, concrete, and steel poles
Installation of down-guy support systems
Low Voltage Services
From network design to cabling to building automation and integration services, we have the low-voltage expertise and experience needed to successfully implement solutions for virtually any size business.
Our low voltage services include:
Aboveground and underground conduit installation
Grounding systems
Low- and medium-voltage wire installation and terminations
Data, communications, and fiber optic cabling and terminations
As part of our low voltage services, we also offer life safety and security solutions, including:
Access control
Closed-circuit television network systems
Life safety systems (biometric, networked, stand-alone or Web Based)
Fire alarm and detection systems
Video surveillance
Contact us today to discuss solutions for all of your high/low voltage needs.